Statistics
The best way to prove the effectiveness and efficiency of a trading system is to show its results in real time. We have prepared statistics of our accounts with real money, which are being updated online. All the trading results of FXRapidEA on our accounts have been verified by the independent company Myfxbook - what confirms the veracity of the results. Our results are really good!
Backtests
In order to see how the system has been working over a longer period and what to expect from it, it's best to analyze tests on historical data (backtesting). Below are the backtests for each currency pair.
Info
Trades only by the trend and closes trades which are against the trend
FXRapidEA is designed for trend trading. Using special algorithms, the EA determines a direction of the trend and opens a trade in that direction. Sometimes it happens that before the price moves further along the trend, a slight rollback of the price occurs. In such a situation, the robot opens another order(s) in the direction of the expected trend, for greater profit. In cases when a direction of the Market has changed, and the trades of FXRapidEA are against the trend, the EA CLOSES open trades as they are, often at a loss. When a new trend is formed, the EA opens trades in such a way as to cover all the previous losses. This can happen even several times. That means we always trade by the trend and close trades that are against the trend.
Forex robot FXRapidEA trades rapidly. That means it works in such a way as not to have protracted trades in the Market. On average, trades do not stay in the Market for more than 1-2 days, and often only a couple of hours. This is achieved by using not too large TakeProfit, and trading by the trend, profit goals are reached faster. The EA also closes trades that could cause protracted trading.
Trades rapidly, without holding trades in the Market for a long time. More than 80% of all trades do not stay in the Market for more than 1-2 days
Works on any broker, and doesn't require specific conditions for effective trading
FXRapidEA has a drawdown control system. This means that if you specify in the settings of the EA that the risk should be, for example, 30%, the system will calculate a lot size in such a way so that the strategy could fully and reliably work with this risk. And in case of an unfavourable situation, if such the drawdown is reached, the EA will stop the loss at the level you specified.
Our EA is compatible with any brokers. It is also compatible with NFA regulated brokers and brokers with FIFO rule. There are no special requirements, so FXRapidEA can be safely used on your usual brokers.
Reliably and accurately limits drawdowns using StopLoss
Fully automated and extremely easy to install and configure

Our 100% automatic robot is very easy to install and extremely easy to set up. Also there is a detailed user manual in set with the EA. If you are not interested in other settings, then we can say to start the EA you will need to specify only one setting - the percentage of your desired risk. Everything else FXRapidEA will be ready to do by itself. To start trading you will need only a couple of minutes to install and configure the EA.
If you have any difficulties or questions, our friendly support team will be happy to help you and give you as much time as you need.
Our Forex robot FXRapidEA trades on 4 currency pairs. Minimum deposit needed for trading is starting from $460.
FXRapidEA DUE trades on 2 currency pairs: EURUSD, NZDUSD.
FXRapidEA QUATTRO trades on 4 currency pairs: EURUSD, NZDUSD, AUDUSD, USDJPY.
Uses up to 4 currency pairs for trading and the minimum deposit could be only $460
Order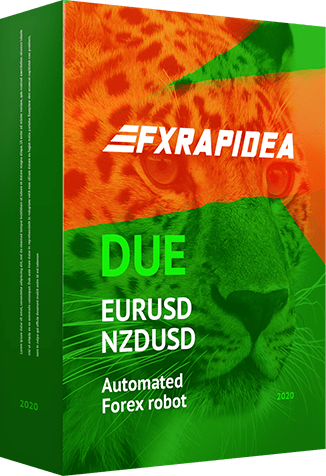 FXRapidEA
DUE
Works on EURUSD, NZDUSD
1 lifetime license for any account
Free lifetime updates
User Manual and best support 24/7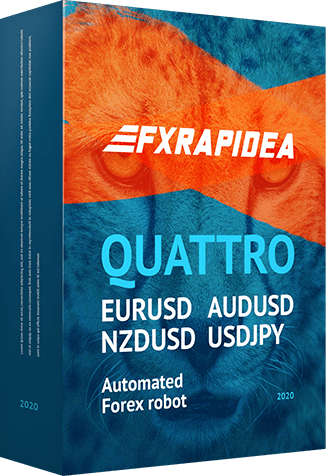 FXRapidEA
QUATTRO
Works on EURUSD, NZDUSD, AUDUSD, USDJPY
1 lifetime license for any account
Free lifetime updates
User Manual and best support 24/7
Our EA is designed in such a way, so that you can get the same results as on our account. If for some reason the trading on your account is different or you get a loss of more than 35%, then we will refund your money!
Contact us
Your request is accepted.
Thank you for contacting us.